What is Guided Cooking? Using Yummly
Last updated
Whirlpool works with Yummly Connected Guided Cooking Recipes
Yummly Connected Guided Cooking Recipes will provide you with the following:
Access to 100 (and growing) connected Guided Recipes answering the question "what's for dinner?"
Step by Step Video Tutorials to educate & remove the complexity of the cooking process
Has the ability to send cooking instructions directly to select Whirlpool smart cooking appliances
Receive real-time notifications for each step
Remote control of appliance within the free Yummly mobile app, when used with connected smart appliances
How can I tell which recipes can be connected to my appliance?
Connected Guided Cooking recipes can easily be identified and found. Here are the easiest three ways to locate:
Look for the Connected Fork icon , located in the top right hand corner of the recipe
Use the recipe filters. Turn on "Guided" and/or "Connected" to browse recipes
Search using the keywords "Connected" or "Guided"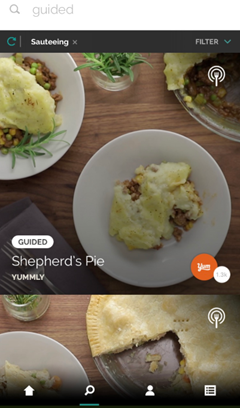 What models will it work with?
Currently, Yummly Connected Guided Cooking recipes will work with the below Whirlpool appliances:
Ranges
WEE750H0H
WEG750H0H
WEEA25H0H
WEGA25H0H
Wall Ovens
WOS72EC0H
WOD77EC0H
WOC75EC0H
WOS97EC0H
WOD97EC0H
WOC97EC0H
WOSA2EC0H
WODA7EC0H
WOCA7EC0H
If you would like to download or view product literature for your appliance, please visit our Manuals and Literature page.