Home Canning
Last updated
Tips for Home Canning on your Whirlpool Range
Canning can be performed on a glass ceramic smoothtop cooking surface, coil element or gas surface burner. When canning for long periods, alternate the use of surface cooking areas/burners or elements between batches. This allows time for the most recently used areas to cool.
Which Element to use?
Center the canner on one of the following:
Largest ceramic surface cooking area
Largest coil element
Gas burner grate above the burner
NOTE: Do not place canner on two (2) ceramic surface cooking areas, gas burners or coil elements at the same time.
Proper Placement
Canners should not extend:
More than 1/2" (1.3 cm) beyond the ceramic surface cooking area or coil element on electric cooktops
More than 1" ( 2.5 cm) beyond the burner grate on gas burners
On ceramic glass models, use only flat bottom canners to avoid damage to the cooktop.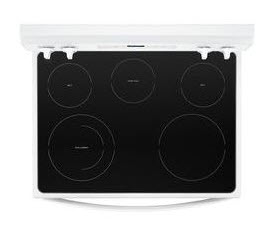 For more information, contact your local agricultural extension office, or refer to published home canning guides. Companies that manufacture home canning products can also offer assistance.
If you would like to download or view product literature for your appliance, please visit our Manuals and Literature page.