Probe or Insert Probe
Last updated
Possible Solutions
Verify meat probe is fully inserted in meat probe jack.
The Control is "looking" for an input from the Meat Probe.
Insert Temperature Probe into food. The probe should be inserted into the center of the fleshy or thickest part of the food. If cooking meats with a bone, avoid inserting the probe too close to the bone, as it might result in unfavorable cooking results.
Insert Meat Probe is fully inserted in Probe Jack / Receptacle.
Typical Meat Probe orientation, Meat Probe Jack / Receptacle, location may vary: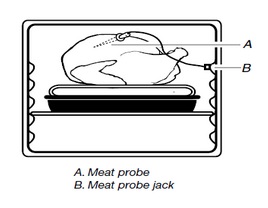 Reset power to the product:
Power unit down by turning off the circuit breaker(s) for one (1) minute.
Power unit up by turning on the circuit breaker(s).
Monitor the oven for one (1) minute to ensure the error code does not display again.
Verify oven operation.
Still need help? Contact us or schedule service.
Please contact us or click below to make an appointment from our preferred list of service providers for service on your appliances.
Interested in purchasing an Extended Service Plan?
Please click below to learn more on how you can save up to 25% on New Appliance Extended Service Plans within 30 days of your appliance purchase.