Cleaning the Door Seal - All-In-One Washer Dryer
Last updated
Possible Solutions
Cleaning the Door Seal

1. Open the washer/dryer door and remove any clothing or items from the washer/dryer.
2. Inspect the seal between the door opening and the drum for stained areas or soil buildup. Gently pull back the seal to inspect all areas under the seal and to check for foreign objects.
3. If stained areas or soil buildup are found, wipe down these areas of the seal using the textured side of an affresh® Machine Cleaning Wipe.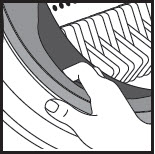 affresh® cleaners are available at many retailers. Find one here.
Still need help? Contact us or schedule service.
Please contact us or click below to make an appointment from our preferred list of service providers for service on your appliances.
Interested in purchasing an Extended Service Plan?
Please click below to learn more on how you can save up to 25% on New Appliance Extended Service Plans within 30 days of your appliance purchase.