6. Tools Button
Last updated
6. Tools Button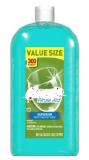 Touch the Tools Button to access the tools screen. The Tools Screens allow for many other options. Following are both Icons and listed selections that are available under Tools:
Load & Go Dispenser 1
Load & Go Dispenser 2
Control Lock
Mute
Utility Cycles
Preferences
WiFi
Info

You will have to scroll down to see all of these tools. Click in the next column above to see what is available.