Not Draining
Last updated
Possible Solutions
Is the Drain hose extending more than 4.5" (113 mm) into the drainpipe?
The drain hose may be too far down inside the drainpipe (standpipe) or laundry tub. Drained water can siphon back into the washer if the drain hose extends too far. Make sure that the drain hose does not extend more than 4.5" (113 mm) into the drainpipe or laundry tub. Using the U-shape drain hose form (as described in the Installation Instructions), will provide the correct length of drain hose in the drainpipe or laundry tub.
Maximum height for drain hose is 96" from the bottom of the washer.
Is the Drain hose taped onto the drainpipe or top of the drainpipe covered in tape?
Do not seal the drain hose into the drainpipe with tape. The drain hose should be loose, yet secure. There must be a gap between the drain hose and the drainpipe to allow air to flow through. The air gap will break the suction. This will prevent water from continuously being sucked out of the machine (siphoning) as it fills.
Have you Cleaned the Drain Pump Filter?
NOTE: Perform the following procedure every 6 months.
Open the drain pump filter access door at the bottom right corner at the front of the washer/dryer.
Place a broad, flat pan beneath the drain pump filter to collect the drain water. Pull out the black hose, remove the plug, and drain the hose into the pan. Empty the pan. Replace the drain hose plug and put the hose back into place. Repeat this procedure if necessary until all the water has drained. Make sure that the black hose is completely dry.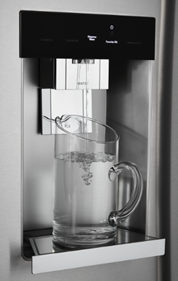 Lay a cotton cloth beneath the drain pump filter to absorb any water still in it. Then remove the drain pump filter by turning it counterclockwise.
Remove large clumps of lint by hand from the filter and place lint in a suitable waste container. Remove remaining residue from the filter by rinsing with water.
Reinsert the drain pump filter by turning it clockwise. Make sure to turn it in as far as it will go, with the filter handle left in a vertical position.
Have you Cleaned the Door Seal (bellow)?
There are small drain holes inside the door seal. If they get clogged, the washer/dryer may not drain well. See "Cleaning and Maintenance" symptom above for information on cleaning the door seal.
Still need help? Call or schedule service.
You may need assistance from a qualified technician. Call 1-866-698-2538 or click below to schedule an appointment.