Information on Dishwasher Cycle Time
Last updated
Long Cycle Times on Whirlpool Dishwasher
How long is the average dishwasher cycle time?
Dishwasher cycle time is anywhere from 1.5 to 4 hours long. A delay automatically occurs in some wash and rinse cycles until the water reaches the proper temperature.
Some models are equipped with an optical sensor wash that detects water temperature, soil and detergent amount. Wash cycles are then adjusted based on what is sensed. When loads are overly dirty, the optical sensor will default to the longest cycle time available.
The very first wash cycle after installation in the home will be adjusted to include an additional 2 rinses. This cycle must not be interrupted for proper sensor adjustment. If this adjustment cycle is canceled or stopped before the Clean light comes on at the end of the cycle, the next wash cycle will repeat this sensor adjustment.
The dishwasher "senses" wash water quality during a series of pauses in the wash cycle. The sensor monitors water temperature and the amount of soil and detergent appearing in the wash cycle for the best wash. Lightly soiled dishes use less water and energy. Heavily soiled dishes will get more water and increased temperature and wash time. This dishwasher will automatically adjust the sensor approximately once a year to your water quality.
If the optical sensor appears to need cleaning, run a normal cycle using affresh™ Dishwasher Cleaner.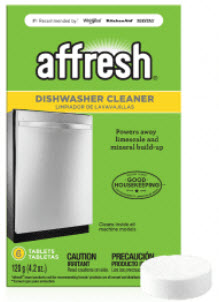 Cleans even where you can't see
affresh® cleans deep inside your appliances reaching components such as the tub, racks, pump, valves, drain, and recirculation hoses.
Cleaners are available at many retailers or can be purchased here.