Not Heating - Vented Outside - Compact Heat Pump Dryer
Last updated
Possible Solutions
For Vented models only:
Some of this model line is vented. If so, follow this information for long dry times:
Is the dryer new?
If you connected a new dryer to the old house venting, you may still have long dry times. Venting going to the outside of the home needs to be cleaned every one to two years or as needed when dry performance has decreased. This will depend on the frequency of use, types of items dried, pet hair, etc. Dryers need good airflow to the outside for clothing to dry and for optimal performance.
CLICK HERE to see information on how clothes dry
Verify house vent (behind the dryer going outside) is clear of obstructions
THIS IS DIFFERENT THAN CLEANING YOUR LINT SCREEN!
If a dryer is heating, but still has long dry times, the likely cause is a vent issue. Standard dryers must have airflow to the outside in order for clothing to dry.
CLICK HERE for more information on symptoms of having a blocked vent
Before calling for service, check your house vent going to the outside. Make sure that the vent material is not crushed or kinked. Verify that the vent is clear of lint or other obstructions. Clean venting the entire length starting at the back of the dryer to where it exits your home. View the image below:
You can also contact a professional vent cleaning service and have your vent inspected for obstructions. This should be done at least once every year.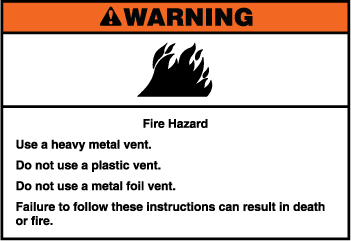 CLICK HERE to watch a video with information about a clear vent and exhaust
CLICK HERE for information on using the vent test kit
Still need help? Contact us or schedule service.
Please contact us or click below to make an appointment from our preferred list of service providers for service on your appliances.
Interested in purchasing an Extended Service Plan?
Please click below to learn more on how you can save up to 25% on New Appliance Extended Service Plans within 30 days of your appliance purchase.
Still need help? Call or schedule service.
You may need assistance from a qualified technician. Call 1-866-698-2538 or click below to schedule an appointment.