Cleaning the Lint Screen on a Dryer
Last updated
Cleaning the Lint Screen in your
Whirlpool Dryer
Clean the dryer's lint screen after every load:
A screen blocked by lint can increase drying time. The lint screen is located in the door opening of the dryer. The control panel has an indicator light "Check Lint" or "Check Lint Screen" to remind you to clean the lint screen before each load. The indicator light will turn off once the door is opened or a cycle is started.
IMPORTANT: Do not run the dryer with the lint screen loose, damaged, blocked, or missing. Doing so can cause overheating and damage to both the dryer and fabrics. If lint falls off the screen into the dryer during removal, check the exhaust hood and remove the lint.
Pull the lint screen straight up.
Press the tab down and open the lint screen.
Roll lint off the screen with your fingers.
Do not rinse or wash screen to remove lint. Wet lint is hard to remove.
Close the lint screen and push firmly back into place.
As needed cleaning:
Laundry detergent and fabric softener residue can build up on the lint screen. This buildup can cause longer drying times for your clothes, or cause the dryer to stop before the load is completely dry. The screen is probably clogged if lint falls off while the screen is in the dryer.
Clean the lint screen with a nylon brush every 6 months, or more frequently, if it becomes clogged due to a residue buildup.
To wash:
Roll lint off the screen with your fingers.
Wet both sides of the lint screen with hot water.
Wet a nylon brush with hot water and liquid detergent. Scrub lint screen with the brush to remove residue buildup.
Rinse screen with hot water.
Thoroughly dry the lint screen with a clean towel. Reinstall the screen in the dryer.
Clean space where lint screen is located as needed. Using a vacuum, gently remove any lint that has accumulated outside of the lint screen.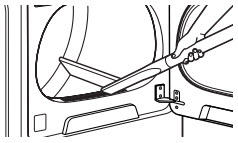 Refer to the video below for more information about cleaning your lint screen:
If you would like to download or view product literature for your appliance, please visit our Manuals and Literature page.