Washing Large Loads or Bulky Items in a Washer
Last updated
Washing Large Loads or Bulky Items in your Whirlpool Washer
Always select the Bulky cycle when washing large items or heavy items. This could include comforters, heavy washable coats, or even sheets and bedding.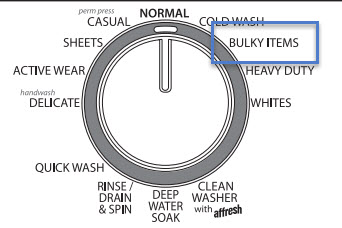 Balance the Load
Oversized items, Water Resistant Materials or a large unevenly distributed load can cause water to splash off the top of the load or washer basket.
Evenly distribute the load in the washer basket, items should not be higher than the top row of holes on the basket.

Be careful not to cover the middle of the impeller. Load clothes loosely and evenly around impeller.
Examples of some of these items could be: Bed Comforters, Pillows, Shower Curtains, etc.
Washing a Single Bulky Item in your

washer

?
Consider adding more items (i.e. towels) to help balance the load during spin. Select Drain/Spin or Spin Only cycle and restart the washer. Your washer is designed to detect an unbalanced load and automatically lower the spin speed. Unbalanced conditions are more likely to occur with a single, bulky item.
If you would like to download or view product literature for your appliance, please visit our Manuals and Literature page.